Friday, January 5th, 2007
Hi everyone, I'm back from London (had an amazing time) and it's fucking cold outside .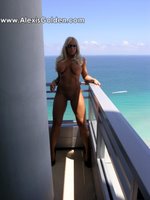 I really can't stand the cold! My weather motto is … "The hotter the better!" Now that the cool weather is moving in I'm starting to get sad. It's no fun having to put on big heavy clothing. I'd rather be in a sun dress, bikini or short shorts. I'll take some strappy sandals with high heels over closed toe shoes any day. How bout this summertime photo? Naked is even better … take me to the water!
Looks like I need to plan a trip to the Caribbean to ease my pain. Any Islanders out there?
Smooches, Alexis