Tuesday, April 29th, 2008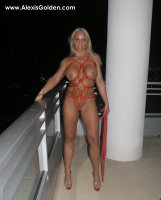 You never know what's going to happen when friends get together to party! Our friends Anna & Bruce from
4RealSwingers
and a group of hot couples got together in Miami to party in our hotel suite. Next thing you know it, Anna is naked and tied up in a sexy rope outfit. She kept saying how erotic it felt as they were tying her up. So of course I have to get in on the action. Next thing you know I'm naked and this blonde cutie is maneuvering a thick red rope around me.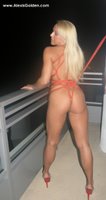 Mmmmm … I don't know what it was, the sexy blonde or the exhibitionist in me standing naked in the room with everyone watching or the fact that when the rope moved across my skin my pussy started to get wet, but man I was super turned on. Every time her fingers touched my skin my head would get hot. My legs were shaking with anticipation as she slowly moved the rope between my legs and across my pussy.
What do you think of my party outfit?
Smooches,
Alexis