Tuesday, March 31st, 2009
Had a hard time sleeping. Got up at 4:00 PDT because my body thought it was 7:00 EDT. The whole time change thing is going to be interesting.
Got to the gym first thing and had a great leg workout, showered up ate my standard egg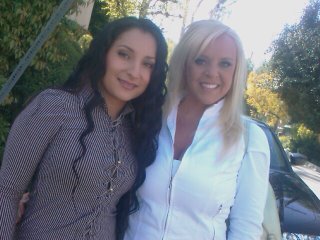 whites and oatmeal for breakfast, then headed off to my shoot. Today I shot with the folks from New Sensations. I arrived on set for hair and makeup with the lovely Rosalinda. She made me up as a "Cheating Housewife" complete with heavy makeup and big-ass hair. The shoot took place at a different house so the director and I jumped in his truck and rode over together.
I absolutely LOVED the set-up for the scene. Here's how it went … I'm outside laying topless by the pool at my house and the washer repair man shows up. He's not offended by my naked boobies and I politely show him to the laundry room. I tell him to come back out to the pool when he's finished and I will write him his check. I go back to the pool all turned on from the hot repair guy and proceed to pleasure myself with a big fat dildo. I'm having a great time "dreaming about sucking his cock" (which we shot early and will be editing in as a dream sequence) when he comes back and finds me. I thank him for "fixing the washer and tell him now it's time for him to fix me". We start by the pool with me devouring his cock … God I love to suck cock!!! Then I lead him inside by his cock to fuck me in the living room.
As you read in my previous blog, this was my first shoot with Mark Ashley. Man … what a great time we had! Super charged chemistry and I just could not get enough of this dude plowing my pussy with his BIG FAT COCK. He has the stamina of 10 stallions. He fucked me hard – and I mean hard until the both of us were dripping in sweat, pussy juices and cum. Holy shit, what an amazing way to start my two weeks here. I'm just keeping my fingers crossed that I get to work with him again. WOW!!
Tomorrow I'm shooting with Acid Rain and CJ Write. Check in tomorrow for all the details.
Smooches,
Alexis