Tuesday, January 19th, 2010
My big trip to Vegas and the Adult Entertainment Expo was quite a whirlwind. I will describe all the events by day in this blog update. A lot of planning went into the trip before I got there. It was quite stressful to get ready as we had a house full of guests for both the Christmas and New Years holidays. I had to order a cool retractable banner, pictures to sign, DVD's to sell, get sexy clothes, pack and more. All with people in the house who have no idea what I do for fun. Sheesh.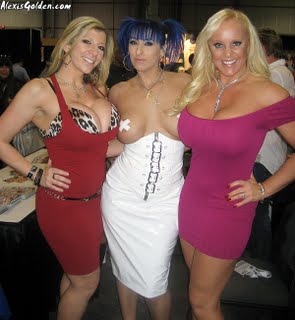 My guests left at 9:00 PM on Tuesday January 5, and I have to be back at the airport the very next morning at 5 AM. I had to be up at 3:00 AM. Now that's a scramble. I did make it, barely…. and fell asleep about 1.5 seconds after sitting in the plane seat. Actually I don't remember shit about the plane ride and people could have been drawing on me for all I knew. Got to Vegas and was greeted by my best pal Sara Jay. She was waiting to pick me up with a BIG smooch and a BIG hug! We are room mates for the next 5 days and off we went.
The resort was nice and our condo was HUGE. What else would Sara and I have but something HUGE! After I got settled it was off to a hair place to get my hair did. The place was over priced and she did a shit job, but it's Vegas, so that's expected I think. Sara and I were committed to eating well, so we stopped by a Whole Foods on the way home to stock up on vittles. Back in the place, we cooked dinner and yakked about everything we could think of. We don't see each other much, but we sure do enjoy the time when we get together!
We went to bed relatively early and went to the gym. I had an awesome workout, but the condo gym wasn't what I'm used to at my home Gold's Gym in Miami. After a healthy breakfast and packing our lunch we painted up and headed to the convention center to get our badges and set our table up. Of course not too much went right and it was a big cluster fuck at the center. And my feet hurt already! When I wear heels I am usually shooting. In that case my legs are spread and my feet are over my head. So no pressure on my piggies. Here, I have to STAND on my feet. Fucking hurts!!!
My cool banners arrived, but no pictures and no DVD's. 1 out of 3. Sara has some cool stuff. She got "I love Sara Jay" stickers. Which by the end of the week everyone has on.
We milled about talking to people we knew who were also setting up. I also met our neighbors, Barbi Sinclair and Mandi. I've been exchanging emails with Barbi for YEARS and it was the first time we met in person. Hubba Hubba. I can't wait to get my mitts on her! She's in big trouble!
So we leave the convention and head back to our place to have dinner. Sara did a dirty web show. I went to the local Kinko's and printed out some pics for me to sign since the ones I ordered online didn't come in. Here's something funny. When I called on the phone the dude gave me a price of $540 on what I wanted. When I got there in person dressed like a porn chick, seems my price went down to $105. Even though I got MORE that what I asked for on the phone and got better paper. Gotta love the Big Titty Discount. When I got back to the condo, we tried calling a few dicks over to get fucked, but no one took us up on the offer. I'm thinking most guys know Sara and I love the BIG ones. I mean the REALLY BIG ones. So if someone is packing a medium or even a large, they back off and are afraid to come over.
Just sayin'.
Friday we're up early and at the gym, then breakfast, pack up and to the show. It's going to be a busy day. It sure turned out to be crowded. Jam packed in front of our table from start to finish. Sara Jay is fucking famous or something. Everywhere I go with her it's like she's a Rock Star. "SARA…..Sara we LOVE you!" She should run for office or something.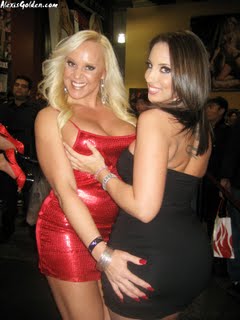 I posed for a gazillion pictures. Maybe you were one of the guys who came up. THANK YOU to everyone, it's nice to be appreciated. I try really hard to keep things real. My site is a REALITY site, not a fake site. What you see is what I LOVE to do. I'm not a fake Cougar. I am a REAL COUGAR. I'll hunt down young meat and devour it. I am a REAL size queen. I NEED and WANT BIG cocks! I know you can tell the difference.
By the end of the day my feet are torched. We limp out of the show and go home to rest up for a party thrown by Alexander Devoe. It is an ethnic themed party and Sara and I are the only two white girls there! I met Prince, Sean Michaels and Alexander. Renewed acquaintances with Lex Steele and tons of super hot and super nice girls and guys. We purposely kept it low key and came home about 3 AM. Unfortunately once again we were alone. Despite our best efforts we could not round up any dicks to suck or fuck. Now let's be honest, isn't that ashamed? Sara and Alexis, alone in a huge 1500 sf condo, on the prowl for hard cock, and can't get any. WTF? I couldn't even round up any dicks from the Swinger sites I use for my Travel MILF series. Seems SOMEBODY in Vegas would want me to suck their dick while Sara Jay filmed it. It's only gonna take 15 minutes
After a short sleep up again. My feet are paying the price for the heels. Sporting my sexy red dress we're off to greet more fans. It's busy on Saturday but not as busy as Friday. I take advantage of the slower lines to visit with Kelly Divine, Jody Breeze, Devon Lee, Richard Mann, Totally Tabitha and other hotties I know. I did meet a few new peeps too. Danny Blaq, Lucas Stone (who I'm going to get me some of soon) Josh Stone and other.
One of my business goals was to get hooked up with the people from Evil Angel and Jules Jordan Video. The type of stuff they shoot is right up my alley. Literally and figuratively. I'm stalking the tables but can't get to the right people who book talent. Fuck!
We left the convention floor about 5 pm to get a bite to eat and then take a nap. This will surely be an all nighter. We aren't going to the AVN Awards. Been there, done that. Although it is great fun to watch drunk/fucked up 20 something bimbos try not to fall on the stairs walking in high heels.
We're up from our nap to get pretty and head out to the Palms after the awards are over. That location is where the Studio Party for Evil Angel and Jules Jordan is being held. Once there, it's a huge mass of confusion. People everywhere, most of them fucked up. No one making a decision. I kind of went with the flow and no one wanted to go to the Studio party. I'm kind of pissed I didn't make it up there to network for shoots, but not much I could do considering the predicament.
While sitting in the Palms we met up with Jeff and Raven. She's always been my hubby Ty's favorite porn chick. She has blue hair now, but he prefers the pink she used to have. Also present was Shane Diesel. He of massive cock. Sara says he is the BEST fuck she's had in porn, and believe me, Sara is no virgin. She knows her dick. Better yet, she knows her BIG dick! In fact if some sort of degree were given in Cock Knowledge, she would get the highest honors.
I was getting kind of ansty as I wanted to make business contacts, but eventually gave that thought up and went the "get wasted" route instead. My night took a left turn and we ended up at the Circle Bar at the Venetian about 3 AM. This is where trouble usually starts and it did. We got shuffled up to a crazy ass Fetish party on the top floor and then I did everything appropriate to be fucked up. The things you see here are something to behold. I can't really describe it adequately so let's just say different people like different things. Some people like pepperoni. Some people like anchoivies. The people here are WAAAAAAAY different.
Sara and I try to get a chair to watch and we were spectators to the shows going on. We met Karen Kougar, a NY hottie I'm going to bed down soon. She has fondness for huge black cock just like me. Seems like we're going t have quite a party ourselves later on. I also met Kimora Klein. A hot half Asian chick that I'm going to get with too.
Shane disappeared and so did Raven and Jeff about 4:30 am. Sara and I were putting out booty calls for dick right and left. No takers. My pussy is so hot for cock that I have to use my pocket rocket in the bathroom.
We leave the Fetish Party and head over to Studio 54, where a party that is advertised as being open til 10 AM is going on. We get there about 5 AM and nothing. C'mon people, what's going on? At this point, Sara and I are as wrecked as two ladies can be. We sit and talk about just about everything for an hour then give it up and head back to the condo.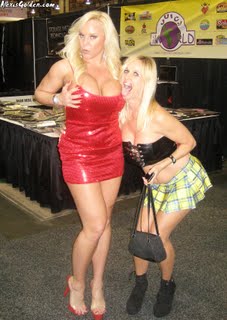 One really fun thing I did this night involved my favorite game I share with my hubby. I know you've read the Virtual Threesome story where I share my exploits with Ty. He couldn't come to Vegas this trip so I did the Virtual Party with him. He stayed up all night with me and partied "with" us all along the way. I sent him pics and texts of all the crazy stuff going on at all the parties we went to. He was partying at home until 9 AM on a Sunday morning, while I was partying in Vegas with the Porn and Fetish people. Some people were going to church, but my hubby was partying with me long distance with the curtains closed! I love sharing fun like this with my best friend when we can't be together!! Good times!
After we got back to the condo, with no dicks in tow, we put on our cozy clothes and curled up in my bed and chatted, falling to sleep mid sentence. We set the alarm for 1 PM so we could get to the convention floor to network one more time. Unfortunately, that didn't work out and I didn't get there. Sara's friend Sean went and got all our stuff. Thanks Sean!
When I did get up I was pretty hung over. Ty was still partying solo back home and carrying on for me. I packed and Sara and I had our last dinner. We smooched and off I went on the Red Eye. I got home Monday AM and immediately went to sleep. In fact, I have to admit I didn't get off the couch much until Thursday. Vegas sure takes it's toll
Overall, I did enjoy meeting a lot of fans. But as a business woman I have to evaluate facts and data. I don't think I'll come back to this particular show as it cost me over 250 hours of my time and several thousand dollars to attend. I could have stayed home on live web cam and met just as many people in a fraction of the time and not lost so much money. Plus, my number one goal was to meet people from the companies I targeted before the show, and I wasn't able to do that.
And top that off with no dick. No shoots, no swingers to fuck. Nothing. Oh well.
But I will come back to Vegas if I'm nominated for something. And I will definitely be at Miami Exxxotica, which is May 14-16. See you there!
Drop me a comment if you met me at the show!