Monday, March 29th, 2010
It's my last day in Tampa, and the busiest. Early this morning I shot the cover, centerfold and month of December for Cavalier's 2011 Calendar. Originally we were supposed to shoot at the local naked people's resort, Caliente. But that fell through because some people were upset over the possibility of them being in the shots. (Really? Honestly do you think we want you in the shot? lol)  So we went to the photographer's studio right near my hotel in Tampa Bay. Hair and makeup took forever. One of the dangers of  having someone else do your hair and makeup is that sometimes you don't look like yourself. I was starting to hyperventilate, but just decided there was nothing I could do about it, short of throwing a tantrum.
I headed back to my hotel to clean up for my girl/girl shoot with Carmen Valentina. Vicky Vette had shot with Carmen and thought I might like to as well. And boy was she right. Carmen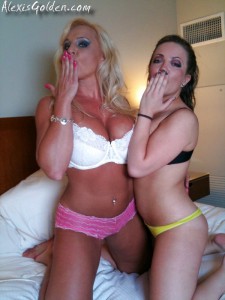 is a super fun and  sexy young thang. I especially enjoyed shaking her ass while she sat on my face. It kindda took on a life of it's own and  kept moving long after I stopped touching it. mmmmm. Carmen's man Alfonso did the camera work and he was such a pro. He's worked in the adult industry for a few years shooting for some big companies and had it down to a science.  Even though it would have been nice to take longer (evil grin) he had us in and out in plenty of time for me to make my evening meeting.
Tonight's meeting was kidda a bust. The women who I was really there to meet called with a family emergency. Oh well, I still had a nice time. Drank of couple of apple martinis and socialized with the owner of Cavalier magazine.  He a nice guy. Now I'm doing some site updates, packing up and headed to bed. I have an early morning flight out. Later Tampa.