Tuesday, December 28th, 2010
I hope you had an awesome Christmas and you are resting up for a BIG NEW YEARS EVE!!!
Many of you have asked that I publish my Web Cam schedule in advance so we can plan our time together. Well your wish has come true. I will list when you can find me on both ImLive and Streammate for Private Shows.
---
My Private Camz Schedule is as follows:
On the ImLive Network
Friday, January 7 – 8-11 pm
Monday, January 10– 2-5 pm
Sunday, January 16 – 2-5 pm
Friday, January 21 – 8-11 pm
On the Streammate Network
Friday, January 14 – 8-11 pm
Tuesday, January 25 – 7-10 pm
Wednesday, January 26 – 2-5 pm
Of course if you want a very special private cam experience and you are not a member of a Cam site you can make an appointment directly with me by Clicking Here. I'll even dress up in my Santa's Helper outfit if you'd like me to!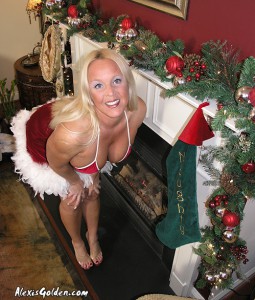 You can Bookmark my Events Page to keep up with the dates too and sign up for my mailing list.
I will be in Atlanta January 28 through February 4, 2011, so let me know if you'd like to see me by Emailing  bookalexisgolden@gmail.com  During my stay in Atlanta I will be shooting my long awaited FLP3.  There will be 3 scenes in FLP3.  Me with 3 black guys, Me with 3 white guys and Me with 3 girls.   I'll leave them all on the floor!
BIG NEWS!  This coming Friday is New Years Eve.  That's not the news, but The MYSTERY MILF photo set 3 is live and you will get to see her with a COCK in her for the first time.  Yes, The MYSTERY MILF Fucks and Sucks!
Join my site for 1 year and get a Free DVD of your choice. Click Here.