Keeping with the theme of anal … my recent vid clip update is "Curtis the Magician." You see, any man who can make a cock that big disappear in my tight little ass has got to be a magician! Seriously, even when I watch the footage I think … damn how the hell did I take such a big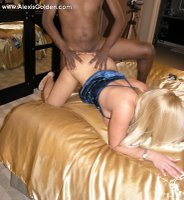 fact cock in my ass? Want to know the trick to having good anal sex? You got to start off REAL slow. Almost like your tying to sneak putting it in. I like to be the one in control and back-up on it at my own pace. First the head, then the rest. Once it's in, slow grinding movements. Then slowly take a little more out with each pumping of my ass. Once my body and mind are in the groove than all hell can let loose. Fuck my ass, spank me red, pull my hair and call me the whore that I am. Curtis sure did.
Anyone want to practice? Give me a shout.
Smooches, Alexis