My next two updates feature one of my all-time favorite swinging experiences. It involves meeting one of my "Idols", the incredible Lisa Sparxxx. If for some reason you don't know her then Click HERE!She is one of the few REAL life swingers like me who fucks because we enjoy the dick we get. If there happens to be a camera there… great. If not, then so be it, we're fucking anyway!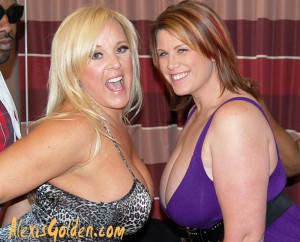 Lisa also is one of the few girls who really loves Gang Bangs like me. She'll take on a room full of guys and leave them all limp and drained. Sound familiar? And… just like me, she LOVES it in the ASS! And the more black guys that are around the better!
So I was happy to find out on a recent trip that she and I would be in the same city. We set up a night to get together and rounded up 2 black cocks on short notice. We'd have preferred about 20, but last minute we had to settle.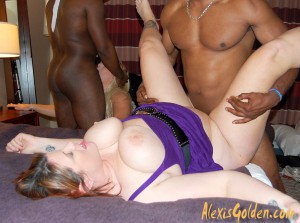 When we met it was like we'd be friends all our lives. I guess sharing the same interests in gang bangs, getting ass fucked and big black dick makes us sisters of some sort.
We had a few drinks in the bar and were creating quite a commotion when our 2 black dicks showed up. I have to admit knowing Lisa has gang banged got me wet and ready being around her. She is not bi, but I sure would have put the strap on to her if given the chance!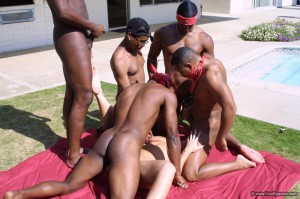 We rushed up to the room and immediately started getting our men hard. Down on our knees sucking these strangers dicks. I looked over at her admiring her techniques. We'd switch off on dicks, taking turns, stuffing both in our mouths. We were having a ball.
I was the first to get fucked and my guy pounded my pink pussy balls deep for all he was worth. Her dude did the same. Both Lisa and I were getting nailed by black cock on the same bed and that alone was making my pussy squirt. I have to admit I imagined having a line of guys behind the dude fucking me, ready to step up next and stick it in all my holes. I LOVE the different feeling of dicks as they switch off during gang bangs. Some guys have a big, lamp shade kind of head that pops out. Others have no head to speak of but a thick, girthy, meaty cock. The long thin ones sort of stab you.
Balls are different in a gang bang too. I can feel balls slap on my ass with the floppy ones. Anyway, I digress.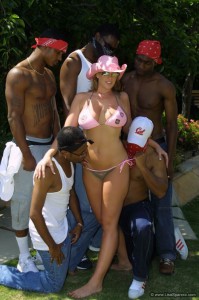 One cool part of this orgy was when Lisa took a break and both dudes did me at the same time. Black dick in my pussy and mouth. I was rooting for them to stick it in my ass, but no one stepped up to fuck my brown hole.
We were partying and laughing and fucking. A great time. The cum shots were absolutely awesome too. The first guy shoot his sperm on Lisa's face and mouth as she laid on her back on the bed. I crawled over and slowly licked up and ate all of his cum from her mouth and face while looking right into the camera. Yummy!
I then laid back and got my treat. This load you just fucking HAVE to see. It's a blast that goes over my head and hair and globs of my favorite, white, thick, creamy black man's cum. After he was done emptying his nuts, I scooped it up and ate it. You know me, I'm not going to waste it.
Oh, by the way, the camera man was Housewife Kelly's husband! And I sucked his dick and ate his cum too!
I can't wait until the next time I meet Lisa. I want to fuck her in the ass with a strap on while she sucks black dick. Then I want her to do the same to me. I also want to do a gang bang with her of at LEAST 20 guys. I don't really think that will be enough to satisfy us but it's a start.
You can see the whole hour long session on my site. Part 1 is up October 7 and Part 2 October 14. If you can't wait and want it now you can get it HERE!