You have the 100% Alexis Golden Guarantee that you will blow multiple loads with this weeks updates. You really have no choice, they are that hot. Here is the story behind this weeks clips.
As you know if you've kept up with me, I started a series called The Travel MILF. This is when I arrange to meet with hot guys on my own while I am on travel for my "regular" job.
I went to Chicago and had set up a meeting with a hot young black guy named Brian. He used to be a college football athlete and was buff with a thick fat dick. I have to admit it's really, really difficult to pay attention in a business meeting when I know that I'm going to get some young dick later that day. When I was daydreaming, or dickdreaming as I like to call it, my pussy would get wet and I'd squirm in my chair. I wasn't listening to a damn thing that was being said.
Eventually I got out of the office and went to my hotel room to get ready. Keep in mind I've never met Brian and I am alone. Ty gets off on when I meet dudes on my own and having me tell him about it later. Did you read the
Virtual Threesome Story
?
I selected a nice and sexy Cougar dress and had myself some Champagne. I am pretty easy after I've had a few glasses of the bubbly! Brian arrived and my pussy started going nuts when he walked in. Young, tall, muscles, bulge in his pants. What else could a girls ask for? (The answer it 5 of the same type of guy at one time)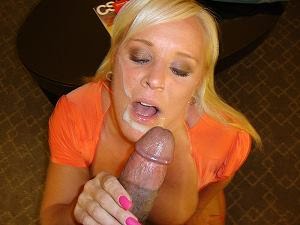 We did a little small talk but I need to taste his dick, so I handed him the camera and pulled his pants down to reveal what I have been thinking about all day. A fat black cock. I loved the way it smelled and I rubbed my face all over it. I slowly put the head in my mouth and savored the taste. His cock was steamy hot and I took my time and sucked him and looked into his eyes. I couldn't help but moan as I tasted this strangers dick. My pussy was soaked and I could feel my juices as they dripped down my lips onto the carpet.
He slid down on the couch so I had full access to his full balls, which I licked for him. I can tell when someone has a big batch brewing and his nuts were full of my prize.
His breathing quickened and I knew I would be fed soon. He stood up and told me to get ready. He grunted and shot stream after stream of sticky, hot, creamy sperm directly into my open mouth and gobs over my face, into my hair and on my head. He was definitely full of spudge. My pussy was throbbing as this was an awesome load of my favorite thing. I squeezed out every last bit of my sperm and then began to feed myself the prize he gave me. I slowly scooped up his cum with my fingers as he watched me. I then dripped the load into my open mouth and tasted his sperm. It was so fucking good I can't tell you. I was there on my knees in a hotel room on travel, this young stud had just emptied his balls all over me, and now I'm eating his cum. I spit it out a bit, then pushed it back into my mouth to taste and then eat again. I don't really call it swallowing at all. I taste my mans cum, then I eat my mans cum. Some girls swallow and never taste it. What a waste.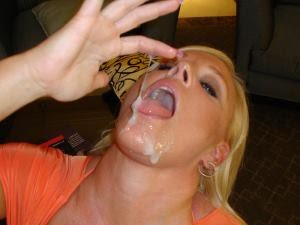 Brian had cum so much there were several scoops for me to enjoy. I cleaned in all from my face and every drop I could find went into my mouth. All the while Brian was able to film and take pictures. What a talent that it!
After this load and my pleasure we sat and talked, until he announced he was ready for more. But that will be yet another story for me to tell. I bet you know how it will end!
Go see the full clips by clicking here! But get your tissues first.
NOTE: If you could see yourself having your dick sucked by The Travel MILF, then contact me with your information. I have specific criteria you must meet, but if you do, then maybe I'll be on my knees eating your load one day too!