Had a pretty good nights sleep. We're getting used to the parking lot bedroom window. After the gym we headed to a Girlfriend Films shoot at 1 PM. Wow, there were a LOT of chicks there. Daryl Hannah, Elsie Graves, Lily LaBeau & Proxy Paige plus me. As you probably know Girlfriends Films is the top rates Lesbian production company in porn. The location was super and so was the crew. First rate all the way. Alexis had a blast goofing off with the chicks and her part of the scene ended first so we were out of there by 7 PM.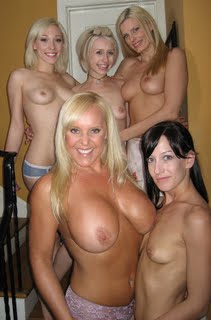 We had arranaged to do a shoot with Hall of Famers Lex Steele and Taylor Wane that night. We made our way over to the warehouse for the shoot and met a great crew of people again! Two homeruns in one day. The make up artist was named Sara and we tood a liking to her. She was super cool.
Taylor was way shorter in person than I thought. I've seen her a million times over the years but it was my first direct contact. Lex and I chilled in the waiting room before the shoot, then I took off to watch a movie. Hot Tub Time Machine. Some good parts, but it's a Hangover wantabe. Go if you're bored, otherwise, wait til it show up on cable.
OK, after the movie back to the warehouse and they were still shooting. I walk in to the sounds of Alexis getting nailed by a huge cock. She makes "special" noises based on the size of the dick. And Lex certainly qualifies as special too. The three of them went at it hot and heavy. Sweaty dirty fucking. It was great to hear and see through a curtain.
Lex dumped a big creamy load on both their faces and Alexis and Taylor swapped his load.