Wednesday, September 28th, 2011
Hopefully you know the book The Prince and The Pauper was written by Mark Twain. Well my new release on DVD, The Prince and The Cougar was NOT written by Mark Twain. However, I'm sure if he was still alive he would rub a few out watching it.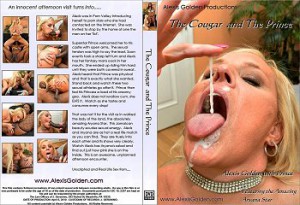 As I am not a regular Porn Chick I get a lot of contact from sex people in Porn Valley to come and shoot, or just to come out an fuck! I took up an offer from a real life Prince to shoot with him and then the lovely Lady of the Land, Aryanna Star.
The results? Well, you will have to see for yourself. The chemistry is awesome and I'm sure you won't make it very far before you lose your load.
Order on DVD from HERE. Or get Instant Download HERE. Or, if you want Clips4Sale you can see a bunch of clips not on my site or on DVD too.
Check me out on WEB CAM! You can jack off for me LIVE and show me your cock and how much you can CUM!