I used to be a dominatrix, that's how I met my husband Ty. People who know me, know that I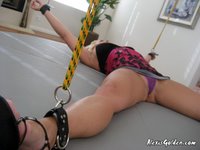 possess the ability to balance pleasure and pain to bring you places you've never gone before. Over the years I've thought about what it would be like to be the one who is dominated. After almost a decade I finally took the plunge and allowed Mr. Filth (Jim Powers) to tie me up and abuse my body. He started by suspending me spread eagle from ropes that hung about 30 feet from the ceiling. I was lying on a gigantic leather ottoman with a ball gag in my mouth in the middle of a huge room. The ropes were used to maneuver my arms and legs up and down.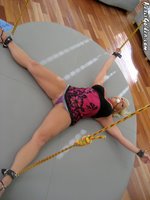 Then … what happened over the course of the next two hours I was not expecting. You see, they told me it was going to be "light bondage". You tell me … are nipple clamps, titties cupped and pumped, clit pumped, fucking machine and electro sex all light bondage? I think not. The cool thing was, I was really into it and I found that I have a REALLY high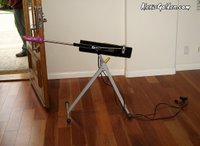 tolerance for pain. My pussy got nice and wet when Jim took the electric wand and set shocks of electricity (you could even see the blue spark) into my clit. I loved looking into his eyes as he controlled me.
Jim brought Otto Bauer in to fuck me while at the same time stringing my legs and arms in the rope. Oh and my neck too.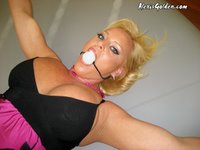 One thing is for sure … I was left wanting more. I think I may have a new kink. Perhaps I need to do this in my off time 😉
Smooches,
Alexis