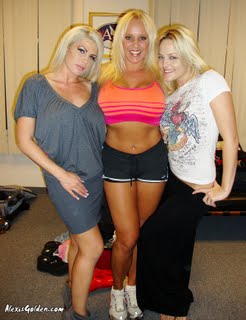 After getting in late from Footnight it was early to bed because we had to get up at 4:45 am to catch the train to San Diego. I hate the alarm. I don't even have one at home. The drive in rush hour morning traffic was another fun experience. The only traffic on our island involves sea turtles. Union Station was cool. Not as ornate as east coast train terminals but nice. A good number of odd folks there, talking to themselves, etc. Or maybe they had on a headset, who knows.
I was envious of Alexis heading to San Diego. I LOVE TRAINS! She could film the whole train trip and I'd just watch that and love it. I hope she remembers to do her video blog.
She got to San Diego and was picked up by the Naughty America chick Emma. Back in the offices it was very busy, with Alexis Texas, Brooke Haven and my Alexis sharing one space. Check out the pic of the girls. My Alexis is almost twice their age. Now you tell me boys, who loves the MILF's and Cougars of the world who can be smokin' hot over 40? If I'm walking by those 3 chicks and I don't know any of them, I'm going for Alexis Golden. And who would you go for?
The plan for the day is she does an interview, then 3 web shows throughout the day.
Alexis did an interview with super hot Lauren, an NA celebrity. She also came in with Alexis Texas and did an Alexis Double Team on Lauren for fun. I've always wanted an All Alexis event to see who'd be the last Alexis standing. But hell, we all know that answer anyway.
Her first web cam show was Naughty MILF. That could be any day at any time, because Alexis is a REAL Naughty MILF, not a bull shit pretend chick. You guys know the difference. I hope you do anyway. You do realize just because they print MILF on the box doesn't make the chicks real MILF's. You do realize that? Right?
While she was doing her thing in SD, I was eating hamburgers and watching movies. Steve and Janet Mason came by. I sat and talked with my buddy Steve for about an hour. I told him all the crazy stuff that went on at Footnight. He told me about having Anal Sex with Janet. He wins!
I went back to Topz, the healthy hamburger place. Then went to see Inglorious Basterds. I usually fall asleep when I see Brad Pitt, but I have to say her was excellent in his role. Put that on your must see list, but you may want to wait until it comes out on DVD. It's LONG and I pee a lot.
I didn't really hear from her much during the day, so my perv mind was rooting for some sort of sexual escapade she'd surprise me with on camera when she got home. Fingers crossed.
She had a break between shows and they did stills for all her shoots. Time flew right by and next thing you know her Naught Teacher show is on. This was a GREAT show. She found a book on Greek on the desk. Alexis is an Anal expert and the lesson revolved around Anal. I hope you watched. Or at least watched until you squirted.
The final show was Live Gym cam. Since Alexis has done Personal Training this show rocked as well.
She left right after the last show and caught an earlier train back to LA. We got home late and went right to bed. Since she's been working so hard I have arranged for her to get a 90 minute deep tissue massage on Saturday. I haven't been doing anything, so I will sit home and watch some college football.
She is trying to arrange a GG and BGG shoot with Diamond Foxx for Saturday afternoon. Problems getting dicks to shoot with. Who would ever think it would be an issue getting guys to come fuck Alexis Golden and Diamond Foxx. Check in tomorrow to see how it goes.