It's been many years since I did a pro porn shoot. As you know I've been shooting my own content and shooting with friends and swingers. I've been getting a lot of requests to start doing pro shoots again so I decided to go back to where I first started….to Naughty America!
My first ever pro shoots were with Naughty way back when. In fact you can see ALL of my previous Naughty America Shoots by Clicking Here!
When I decided to shoot pro porn again I got in touch with the great Naughty people and they were very excited to help me get back…on my back! The ever lovely Lauren from NA put me in touch with Levi Cash down in Miami. He got right back with me and I have to say he's a real sweetheart. He wanted to put me in my comeback shoot with my BFF Sara Jay. Can you imagine how great that would have been? Sara and I have done Threesome's for the fun of it and have worn out our share of lucky dudes. Unfortunately Sara could not shoot that weekend. But there is always next time.
Levi brought in one of my "To-Do" people, Diamond Foxxx to shoot with me. I've always wanted to get my hands on Diamond and now I will get my chance. The lucky dude for this event turned out to be Sean Lawless.
We met on a sunny Saturday in FL and Levi's sexy make up girl really was a treat. She did an awesome job with my make up and she was a LOT of fun. When Diamond arrived we hit it off like we've been friends forever. She's a whole lot of fun to be with and has many stories to share. Did you know she's in the Roller Derby? Take a look at Diamond and me before we fuck so hard we sweat our make up off.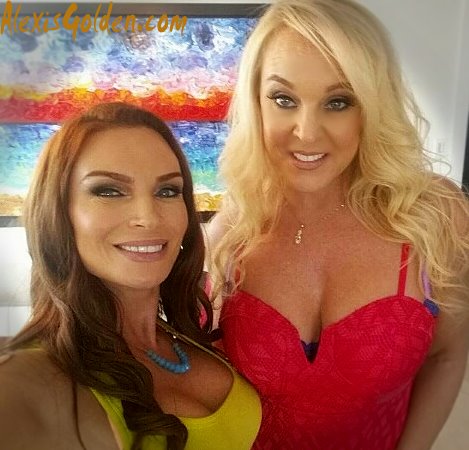 When the shoot started it was like riding a bike and both Diamond and I enjoyed taking advantage of Mr. Sean. I won't ruin the surprise when you watch the video come out but use your imagination as to what happened. Suffice it to say Mr. Sean had empty balls when we left!
Diamond offered to give me a ride back to my hotel and that was quite the adventure as well. NASCAR drivers have nothing on her!
I was up bright and early the next day and went back to meet Levi and his hottie make up girl again. I was shooting a 1 on 1 with another young Naughty stud who has the stage name Brick Danger. I have to say he's the first person I've met named Brick. We went right at it like he had picked me up in a club and I drained his young hard cock completely empty.
After both shoots were done I will have to day it won't be years before I do it again. Keep an eye on the Naughty America site for when these shoots will be released. I promise you'll need lotion and tissues!
Keep coming back to the Blog and my site as I'll be publishing more information about my first trip to Europe with Superstar MILF Emma Starr and our big event, a London Gang Bang!
I'm also finishing up my long overdue remodeling of my site.
PLUS, I'm joining the VNA Web Cam Team and you'll be able to see me and archives of Web Shows!
Smooches,
Alexis