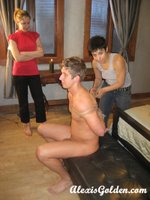 Often times people ask me about my Dom experience. All of mine was private and I had yet to do it on film until I was asked to come out to San Francisco and have my first shoot with the folks at Kink.com. WOW, what an amazing experience. To start things off I met my director, Madeline, in the bathroom of all places. And immediately knew we were going to have a good day. What great energy she has, not to mention her captivating smile.  She is definitely someone I look up – she has mad dom skills.
My Dom skills on the other hand are way rusty (it had been almost 8 years since I've been in this role) and I started to get nervous. I really wanted to do a good job and I was worried about not being able to connect with my sub on the set of a movie. Those of you who know BDSM know that the physical part is secondary to the mental part. This was such a different setting for me but knew I just had to throw my jitters away and get down to business.
Being on set with Madeline and 5 Star (photographer and rope handler extraordinaire) really put me at ease. Madeline told me exactly what she was looking for so there was no guessing on my part. And 5 Start, with her easy going style and mischievous ways was just what the doctor ordered. OK, I can go on and on with the love fest, but you get the deal by now.
Daniel was my co-star and definitely a cutie. My role was that of a rich socialite who had been left home alone by her husband one too many times. What does a lonely rich socialite do when she's alone? She orders herself up a young, green boy to take her frustrations out on. My boy shows up and I immediately order him to take his clothes off. I blindfold him, gag him and tie him up for some corporal punishment. It was an intense flogging scene.
Scene 2 was something I had never seen before. 5 Star and Madeline used pet tape to wrap up Daniel arms and legs. He looked like a quadriplegic. Then I put a chain and collar on him and walked him around like a dog. Needing to take out more of my frustrations I put my strap-on on and fucked my little doggie while spanking some barks out of him.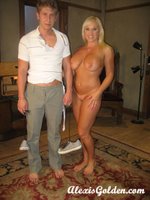 The last scene had Daniel fully suspended over the bed. I was able to turn him 360 degrees and flog every exposed piece of flesh until he turned pink. When he couldn't take it any longer I lowered him on the bed, fucked him silly, and then jerked him off until he came on my feet. Then I took my feet and wiped his cum all over his face. Now that I was done with him … I kicked him the fuck out.
I'm really looking forward to shooting with Kink again. They most certainly have awaken the sleeping giant within me.
Wait until you read about and see my Divine Bitches shoot. You can see a Preview of that event by CLICKING HERE!
Smooches,
Alexis
http://twitter.com/AlexisGoldenXXX