I was recently in San Francisco and I couldn't leave the city without meeting Richard Mann. If you have seen any of my videos then you know that Richard and I have incredible chemistry. His huge cock fits in me just perfectly. My mouth. My pussy. My ass. He's left his loads of cum in every one of my holes, many, many times.
This trip we got together and caught up because it's been a few years since we've met. I have to admit my pussy was soaked as I waited for him to arrive. I was alone in SF and Ty was home, so we set up Skype so Richard and Ty could talk too as they are friends as well. One thing led to another and I put the vid cam on a tripod and began to suck Richard's thick, long black dick as he sat in the desk chair.. Of course Ty was still watching on web cam at home.
I worshiped his huge dick and couldn't wait until he slid it in my pussy, so we moved to the bed and he started to fuck me slowly mish style. When he realized how wet and hot I was Richard let loose with a balls deep plunge into my soaked cunt. He pounded my married pussy with the full length of his black cock.
It was extra hot knowing that my husband was watching at home jacking off while this was going on.
We turned over and I mounted his dick and rode him cowgirl. Going all the way up and all the way down. We fucked hard, deep and long until we were sweaty messes.
Now Ty likes to see the cum when I fuck guys on cam so when Richard was ready to pop I reluctantly got off his cock and he shot a HUGE, THICK, HOT, CREAMY load of his cum into my mouth (again!) When he was through I moved over to the camera and spit his load out into my hand slowly, then fed it to myself again. I ate every single drop. Take a look: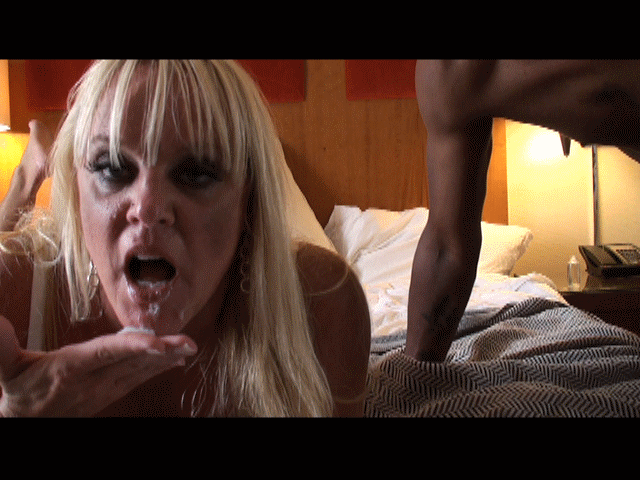 Richard came over and had two huge gobs on his hand, so not wanting to miss that I ate the spillage off his hand and licked his fingers clean. I'm not going to leave any of that tasty goodness behind.
For the record, I don't eat cum like this because the camera is there. I eat cum like this regardless of whether it's a stranger in the back seat of a car, a swinger session or anywhere I get a load. I don't swallow, I EAT it.
I can't wait until the next time Richard and I get together. I think it's going to be in January where I'm getting together a house full of women to fuck and shoot. We need hard cocks there to service us and Richard is the literally The Mann. I'm counting on him filling every one of my holes with loads this big again. And again. And again.
If you'd like to see the entire clip that goes with this story you can do so 2 ways. You can join my site and get this clip and all my other nasty footage. Click HERE to Join. Part 1 is live on my site now and Part 2 will be live next week.
Or, you can just get both of the Clips HERE.
In any case, this is REAL Sex between two people who love to fuck. Not fake porn shoot bull shit. You know the difference!