You need to get your tissues ready for my awesome Travel MILF Philly updates. It comes in 2 parts.
Here's the inside scoop. As you know I travel from city to city as a swinger and meet guys from the swinger sites. Click HERE for info. During a visit to Philly I hooked up with an old friend who I had met about 5 years before. He actually was the first guy I fucked when Ty and I decided to go full throttle swinging. We had some hard core adventures in the basement swing room. Anyway, I met him in Atlantic City and when to dinner. I had asked him if he wanted to be the camera man for my Travel MILF shoot. Usually the dude has to hold the cam himself or we put it on a tripod. That can be good or bad. Some of my updates you've seen the guy does very well. Others get so into the sex the cam can go sideways a bit!
My old friend and I went to downtown Philly to meet a hardbody young black stud with a fat, thick cock I found on AFF. When I saw him in person he was even better than his pics and I couldn't wait to go at it. It's kind of funny that he was at work when I came to town and had to ask his boss for off. So he showed the boss a picture of me and told him he had to go hit that. Well his understanding boss told him "damn right" and sent him on his way.
I got down on my knees in front of this black stranger and my friend filmed away. I peaked over at him as I sucked the black dick and I could see a wet spot on his pants. tee hee hee. I couldn't wait to feel James black dick in me so I spread wide for her prick. It felt HUGE as it entered my pink slit. The best part of what happened is that he HAMMERED my pussy. Just like I like it. DEEP, HARD and FAST! If you want to apply to meet The Travel MILF, then you better have some stamina. Lovers are OK, but I'm not there for a relationship, I want to get fucked! Check out the pic below of the thick, hard cock and me holding my slit open for him to fuck me.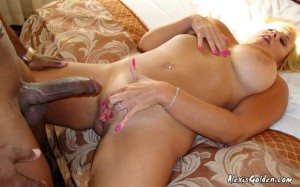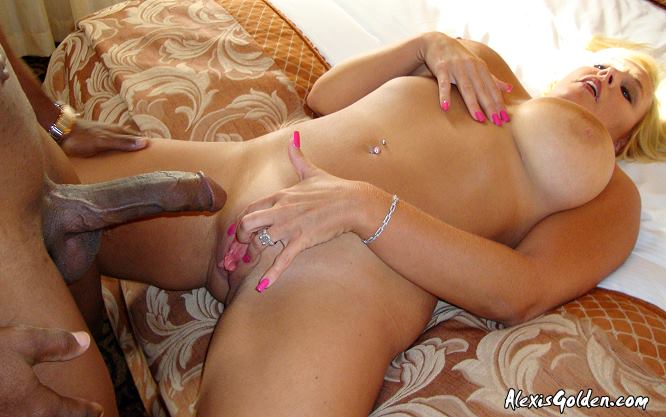 We switched around to a lot of positions and his doggie style fucking while holding my hips get me wet even now. My friend was crawling over the bed holding the cam with a big hard on. I had promised him a fuck for filming so he knew he was going to get some pussy too. OK, so it would be sloppy seconds, but it will get him off.
I have to say the very best part of this fuck was the crushing orgasm I had. Nothing pisses me off more than to see fake porn chicks ooing and aahhing during sex. When you watch this clip you can see the difference in real swinging sex for pleasure and fake ass porn sex. I was rubbing my clit while Jame slammed his swollen fat dick balls deep in my pussy. I told him to get ready because I was getting ready to cum all over his black dick and to fuck my white pussy harder and harder. He didn't miss a beat and I came so fucking hard I almost broke the bed and nearly threw the camera man off to the floor. One of my best orgasms ever.
After I caught my breath and after over an hour of getting reamed, I got down on my knees in front of my lover and begged him for him cum. He stroked his prick as I watched. I love being on my knees with a fat dick in front of my face getting bigger and bigger and ready to bust. When he shot, his sperm went everywhere and I took it all. I have to say that I am truly a cum whore and love to feel it, love to taste it and love to eat it. He fed me his cum and when I was done there was nothing left to see.
I promised James that he could fuck me anytime, anywhere in the future. I will spread open for him or suck his cock as he wishes. Maybe next time I get have him longer and get him in all my holes!
After James left my friend and I went to get a bite. He still had his chubby after watching the sex and the wet spot as well. He kind of hurried through dinner and we made it back to the hotel. My pussy was still throbbing from James fat black dick. My friend seemed to like going down on my used pussy. It felt extra hot to me. After licking my snatch he humped me doggie and pulled my hips into him extra hard. I really get off when I fuck by 2nd and 3rd (or 4th, 5th, 6th) guys of the night. My pussy is hot and moist and I cum so easily.
To top the night off I had my friend lay back and let me suck his prick. He definitely had been saving up and shot an awesome, gooey, creamy cum load in my mouth. He took a pic for me to share with my hubby as he loves to see the cum shots from my Travel MILF adventures. I hope you like it too. Look at the huge load of spudge in my mouth. I don't just swallow, I savor the taste, then enjoy eating it as my men watch me!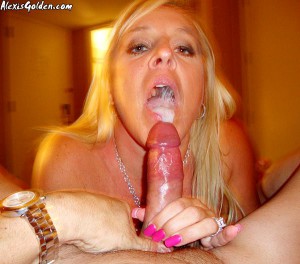 You can see both Travel MILF updates as a member of My Site. Or, even better, if you want to see the entire Travel MILF 1 DVD you can get this scene PLUS crazy hot scenes of ME with people just like you from Washington, DC, Chicago, LA and Philly. Real life beats the fuck out of fake. Here is the Trailer.
If you just can't wait for the DVD then you can get each scene from Instant Download.
Smooches everyone and I hope you enjoyed the story. Remember, you too can Meet The Travel MILF!