Many of my fans have asked me exactly what happens during my famous Anonymous Cocksucking meetings.
Well here is a description with a photo and there is a video update live now that shows you exactly what happens.
As you know I prowl the Swinger Sites for cocks of all sizes and colors to suck so that I can compare everything from smell to the taste of the cum. I'll hit you up and arrange for a meeting if I am intrigued by your dick. It doesn't have to be large or black. It just has to get my attention somehow. No rhyme or reason. Sometimes I feel like sucking a foot long black cock and other times a 3 inch white cock. Or vice versa. (Not)
I sometimes suck these dicks alone in my hotel room. Sometimes in the back seat of a car. Sometimes in the bathroom of a club. Most times I'll have my husband go find a guy too. Then bring him up to the hotel room where I'll get down on my knees and survey my treat. I like to rub it on my face. Smell it. Taste it.
Then I'll get down to it. Hopefully my guy can last a little bit while I stroke his hard prick. I also like to have my face fucked and get wet when the guy stands up and grabs my head to fuck my mouth.
Eventually I can tell when he's about to blow. His cock head will swell up in my mouth and throat. I'll then look into his eyes as he erupts and fills my mouth with his seed.
I'm not content with just swallowing. As my real fans know, I EAT cum. So I'll then go over to the camera and slowly spit out the creamy load into my hand. Then feed it back to myself so I can taste it again. The lucky guy stands and watches proudly as I play with his sperm until every drop is gone.
Check out this pick of me during my most recent Anonymous Cocksucking Adventure. See me look him in the eyes as he fills my mouth with his heavy load: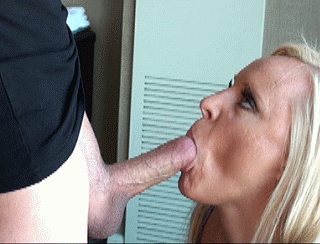 If my husband is there I will then suck his dick with the cum of my visiting stud dripping from my face. When he shoots, I have the taste of two mens cum in my mouth. The only thing better than that would be three. And four. And so on. But that's another story. Cumming soon!
Can you be next?