A bit of a lesson for all you people wondering my position on the age old question of swallowing.
I want to go into great detail in this update about one of my favorite subjects. Cum. I know there are a lot of misconceptions about whether women really like to have it, swallow it, drip it and so on. So I want to go on record as to my opinion on the subject.
I love cum. I love the way it looks, the way it smells, the way it feels and the way it tastes. I tell the men I'm going to meet not to jerk off or fuck for several days before they meet me so I can get a huge load from them. I can tell when I'm sucking a guys cock if he is "brewing a batch" and has followed my instructions.
I don't like a thin cum. Too runny and too liquidy. I love a big, heavy, creamy thick load. I can really get into a batch that has substance. In fact I squirt a lot times in anticipation of a guy shooting off for me. Often I will take only the head in my mouth when a guy cums and keep the sperm in until he's done shooting. Then I will open my mouth and spit the entire load back on his cock or in my hand, then eat it completely.
Let me clearly differentiate between girls who swallow cum and me. A lot of girls will just take the cock and let it shoot directly down their throat. They avoid the cum at all costs just to say they "swallow". You guys know what I'm talking about. Sort of an obligation.
I, on the other hand, do nothing of the sort. I don't swallow cum. I eat cum. I'll taste it, savor it, suck on it for the flavor and do everything I can with it before I make it disappear for my lover. I am intoxicated by cum.
I like to compare the cum tastes of different men. Of course it depends on what they've consumed. Unfortunately, to date, the most loads I have ever eaten in a row is four. I would absolutely LOVE to get invited to one of the German Gang Bangs or Bukkakes and have 20-40 men cum for me. My pussy gets soaked everytime I think about it. When I suck a guy off I like to show him his load. I'll always have a camera handy and want him to take a photo of me eating his spudge and playing with it. I've never had a guy say no. Wouldn't you want a picture of me eating your cum?
I'll often rub a guys balls all over my face, then put them in my mouth and hold them there. Feeling the heat. Knowing that inside is a massive load of sperm coming my way.
If a guy cums in me, I often drip the cum out of me into my hand and eat it. I don't care if it drips out of my pussy or out of my ass. Either way is fine. I have guys who gave me anal creampies reach down and take the load from my open ass and feed me their sperm.
I've also demanded guys that have shot off in a condom take it off and give it to me so I can dump it in my mouth. Or, it's also pretty hot to have them dump it in my mouth as I lay back with my mouth open while their friend take pictures. I did this in the back of a restaurant once where I fucked two guys who both shot in condoms. After each finished, they took off the rubber and fed it to me while the other took pics on their phones. I never did see the pics but I'm sure they've beaten off to them many times!
Several times while on travel I've brought guys I've met on swinger sites back to my hotel room and then fucked and sucked them while my husband watched from home on cam. When they cum in my mouth I'll go over to the web cam and show him my mouth full of the strangers sperm, then play with it awhile as it drips from my mouth while he beats off long distance. Then I will eat it all while the stranger takes pics. Nasty huh? I've had guys shoot in champagne flutes. I've been fed cum with a spoon. I've dripped loads from my pussy and ass into glasses. I've had guys cum on a plate and I've licked it off. I've had guys cum on a plate and sucked it up with a straw (with Raven Black).
My favorite to date is obviously cum swapping with another chick. Not too many other girls treat cum like I do. But I do love to take hot, messy, thick, creamy load and spit it back and forth with a girl. I don't like it if they eat most of it. That sperm is for ME bitch! I often think about cum while I'm driving and at night. I try to think of other ways I could eat it.
I have not eaten a load out of another girls pussy or ass as of yet. I recently saw a DVD of Francesa getting a huge gob of cum dropped directly in her mouth from the ass of another girl after the black guy had cum in her ass. Yes, I squirted and yes, I was jealous.
A real Gang Bang and Bukkake is number one on my list. Maybe you guys could campaign for me to get me to Europe for one. Or, perhaps a large Bachelor party.
If you have been keeping up with me you know I did a Fan Bukkake in Atlanta with Ashlee Chambers. It was really hot but I wanted 25-30 loads of cum. Maybe next time.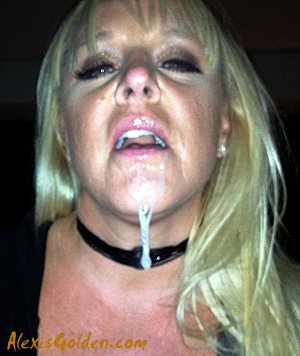 Wanna see the Bukkake and watch us eat cum? Click Here.
And check out my new Tour Pages HERE.
Stay up to date with My Mailing List.  Get on MY LIST!  Be the first to to find out about my upcoming Member Gang Bangs with Lauren DeWynter and then my FINAL Gang Bang with the Amazing Holly Berry!