I want to tell you the full story of my latest update.
I needed major cum when I visited Chicago so I had mu hubby Ty set me up with a guy to suck off. I found this guy on the swinger sites and he obviously was right over to get his dick sucked. He shot his load and it was very, very tasty, but I needed MORE.
I went back to the internet and found some more recruits and I then had Ty call for TWO guys to suck off at once. They arrived and I had them face fuck me for quite some time and grab my hair and stuff their dicks as far down my throat as they could. They were really into it and I was pleased when they both shot off heavy loads. Now that was very good too!
Then with the dried sperm on my face I sucked off Ty and he fed me my fourth load! Not a bad afternoon. This update is a whopping 34:30 HD WMV. Get your tissues ready before you start watching as you'll lose your load too!
NEXT WEEKS UPDATE: I visit the personal home of Lexington Steele to fuck him! A long 33 minute sex session with his foot long black pole!
Here is the pic of the Chicago BJ's.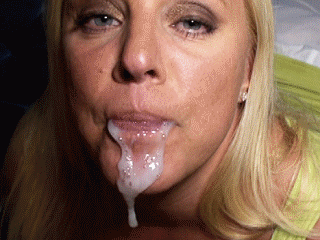 And if you want to see the full video then CLICK HERE to Join. I have a HOT SET OF UPDATES COMING EVERY WEEK THIS SUMMER!!!!