Usually what happens in Vegas stays in Vegas.  Unless you're me, then it gets put on the internet for you to spank your cock to while watching.  I wanted to tell you the full story of what I did on my FIRST night in Vegas for AVN just a little while ago. I thought I'd start things off slow and invite 3 guys to fuck me in the ass and fill me with their heavy cum loads.  Yes, that's a slow start for me.
Enter the 3 guy gang bang crew of Devon Savage, Tommy Utah and newcomer Ronnie Hendrix.  None of whom I had ever met or seen before.  Three strangers to fuck me in a strange location.  Sounds about right to me!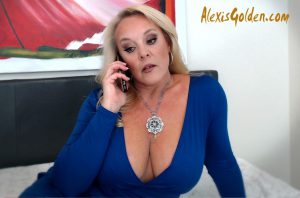 There's no script.  This is REAL swinger sex and a bunch of people having a good time.  This is definitely NOT pro porn with the fake ass girls who only ass fuck because they have to.  As soon as I walked in the door the guys blindfolded me and surrounded me with their dicks out.  They face fucked me, smacked their cocks on my face and told me what a nasty slut I am.  I can't deny it, they had it right and I am a nasty slut!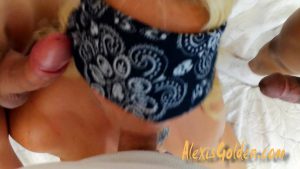 After I sucked their cocks while they passed the camera around and they took video the fucking started.  To be honest it's difficult to remember who is who because I never met these guys before.  The guys just took turns fucking me in all my holes for as long as they wanted while passing the camera around.  There was also a second camera on a tripod that got some nice BTS (Behind the Scenes) footage.  Now usually I don't count it as a Gang Bang unless there are at least 5 guys fucking me but since it was an Anal event plus Creampies I put it in the Real Gang Bang category.  Plus this is a BAREBACK event too.  I like to feel skin on skin and definitely love the Creampies!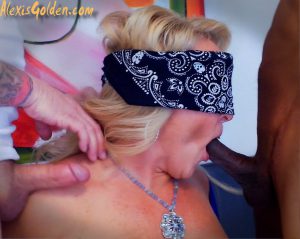 One of the highlights for me was that I took the Anal Virginity of Ronnie. No, I didn't fuck him in the ass with a Strap On.  He did my backdoor as the guys cheered him on.  Up until this meeting Ronnie had never, ever fucked a girl in the ass before, much less shot his load in anyones back door.  Also please not that I have taken a whole lot of men's Anal cherries.  I like to think of myself as doing good for man kind in that regard.  I really do need to make myself a list.  But it will be off by a few because sometimes at swinger party gang bangs people slip it in my ass and then disappear before I even know who they were.  Ass Fucking Ninja's I guess.
They knew I wanted a Double Penetration and an Air Tight as well and they were happy to oblige.  Nothing can really beat the Air Tight.  You know people we ladies have THREE holes so we may as well use them.  Am I right or am I right??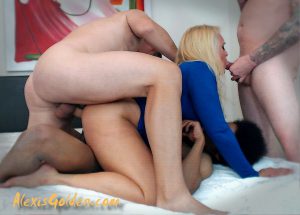 We just fucked and fucked and fucked.  Sweaty, Ass Fucking, Ball Licking, Nasty, Dirty REAL LIFE SEX!  If you are looking for that fake ass primped up scripted crap-ola you won't like this footage.  If you want to see some dirty shit, you found it.
Now, let me tell you about the Creampie situation.  While I was in Doggie getting nailed in my asshole, I was stuffing my face with Ronnie's cock.  Dude in my ass is slamming my ass hard, fast and balls deep.  He grunts and dumps his hot, stick load in my used asshole.  Every gentleman after an Anal Creampie is obligated to gape open my hole and watch and film as his dirty cum drips out of my butt and down my cunt lips.  You will see that very kind gesture as the thick cum runs out.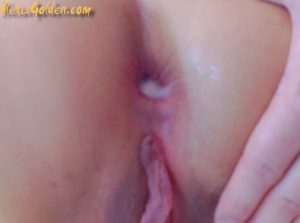 Ronnie could not wait any longer and stepped up Doggie as well to stick his long Black dick in a dirty hole for the very first time.  The other two guys are Ass Fucking experts so they give him advice and encouragement as he rams him long price all the way in to the balls then all the way out.  Repeat, repeat, repeat.  He didn't last all that long but I could feel his cock head swell and they spurt out his hot seed into my married anal hole.  He pulls his long dick out and then also shows the world his load dripping out of my well banged butt and thick streams down over my pussy lips.  AWESOME cum shot and first time Anal for Ronnie!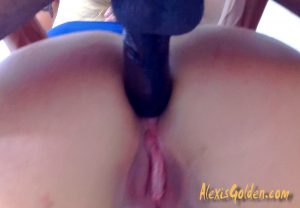 Finally, we have SLOPPY THIRDS and I'm put my on my back and fucks my Ass missionary style balls deep.  There was a small problem in that my Rear Entry had been slammed so much with the DP, Air Tight and Two Guys huge thick Anal Creampies had left my Asshole gaping WIDE OPEN.  My butt was so well fucked it was just too fucking loose, so he switched holes to get some friction and put it back in my cunt, which was wet and sloppy as well but not like my used ass.  Ultimately a THIRD sloppy cum load was dumped in, on and around my slit.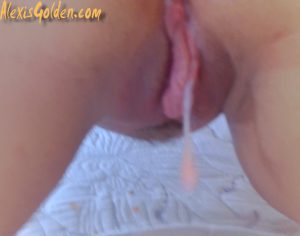 My holes were red, sticky, wet and covered with cum in and out.  Now that's what I call a Creampie Extravaganza!
I will be showing this awesome fuck fest to my LOYAL MEMBERS FIRST.  There will be THREE parts of the one camera.  Then a fourth part that features the second camera on the tripod with the BTS action.  Join NOW!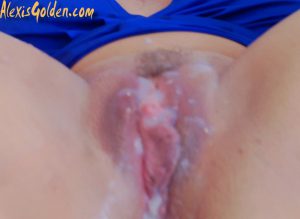 ASK ME QUESTIONS about this Anal Gang Bang!  My members can chat LIVE with me every week and ask me all about my Anal cravings and how it feels to have a room full of guys take turns fucking my asshole and filling me with their loads.  You can even spank it and show me YOUR load during the webshow.
You can Click Here to see the Preview Video Clip.
What are you waiting for?
Smooches,
Alexis